Hello.
monday. again. Today has been not aggravating but not a good day either. I had a DR's appt which has left me in limbo, I don't know whether to worry, freak out, or just take it all in stride and wait to see what the other DR says. I know...the latter is the route i should take but hey. I am human. Moody...because I waited 2 hours to get crummy news I shouldve gotten in July and never did. All I wanted to see the DR was for a refill.
Anyways onto a cheerier note...school starts WEDNESDAY! the kids are nervous now because they don't know much about their teachers...and they're expecting their workload to get harder.
I also have a LO to show off...
it's for The Scrappiest...this week's sketch. and it's a good one!
Unique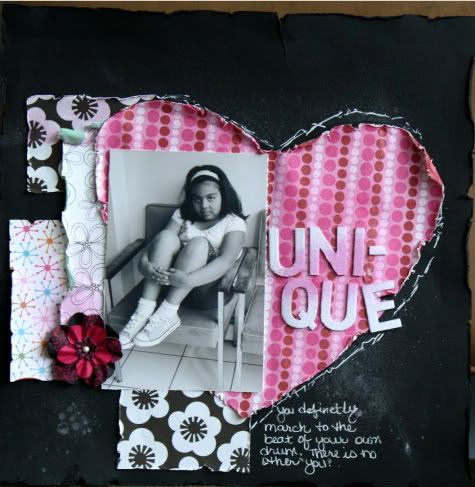 My girly, Lexi.
I have to say, Liz sends us 2 sketches at a time and I can't wait to work with them. They're fabulous!!!
go check out the sketch at the link I have in my sidebar & create a lil something. I'd love to see what YOU can do with the sketch.
There is also a new Challenge blog (also on my sidebar) who has a Pre DT challenge...Today's the last day to submit for the DT. Some have been announced and some are still yet to be announced. there's a new MB there and the ladies are so very friendly! you still have time to submit a LO for the challenge...due 9/5.
I have to go, my terrors are driving me up the wall....